What is the characteristic of reusable tape application on the adhesive hook?
Release time:2019-03-16 | Source: Ideal Home Universal Tape Co.Limited. | Click:1096

The appearance of reusable tape meets the different needs of people. It can be applied in different fields. No matter whether it is household products or electronic products. How is the reusable tape applied to the hook? Let's take a look at the features of this adhesive hook.
The features of adhesive hook :
1. This is an environmentally friendly self-adhesive hook that uses excellent imported raw materials.
2.Self-adhesive hooks can be pasted repeatedly, leaving no residue and no damage to the surface finish.
3.The adhesive hook can be washed with water, and when there is duston the surface, it can be washed with water, after drying it will refresh the original sticky effect.
4.The regular color of hooks are transparent (or custom), free to shift, leaving no trace, no damage to the surface.
5.After separation, there will be no residue remaining on the pasted object , and it is damage-free.
6.As long as the contact surface is clean, it can be pasted many times. Environmentally friendly adhesive hooks is suitable for a variety of applications.
7.With strong load bearing(hooks size in 70X70mm, load-bearing is 5Kg)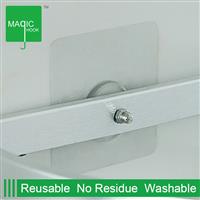 Pls

visit our offcial website 【www.universal-tape.com】 if you are interested in our. you can contact us directly via online communication tools and you also can leave your online message or through our 24 hours customer care hotline at 86-15920698900 to make a phone call to us.Welcome you for coming。








Customized designs of Non-Residue Adhesive Tape holder

We have been working on material tape of Non-Residue Adhesive Tape with OEM and special LOGO service .

100% Fully attention on cumstomers' service .

We own a professional team of mobile Non-Residue Adhesive Tape included R&D ,sales,and after service.

24hours on line service

In order to gain a Satisfactory feedback of mobile Non-Residue Adhesive Tape,our time in your time .
------ Universal Electronic Material Co., Ltd.
Customized designs of mobile Non-Residue Adhesive Tape----
----http://www.magic-hook.net/---